How to Attract Success? J C Chaudhry Shares his own experiences
Published

15 Sep 2021

Last Updated

04 Oct 2021

Read Time

3 mins
Success is an attitude. Yes, it is. When you create an attitude within you, that you want to be successful, SUCCESS is no far from you. If you are a school or a college student, this is the right time to build this attitude. Maybe you don't know your path yet, but you must know how you can become a successful person one day.
This blog by Mr. J C Chaudhry is from his own experiences; how you can prepare yourself as a student and how you can start implementing and behaving if you have already selected your career in any Job or as an Entrepreneur. 
So, let's find out what you all need to do to attract success for you. 5 things to know and implement.
 
Never lose in life
Is this possible if we never lose in life? No, this is not possible. Sometimes we win and sometimes lose.
Mr. J C Chaudhry says.. "I never lose, either I win or learn from my experience"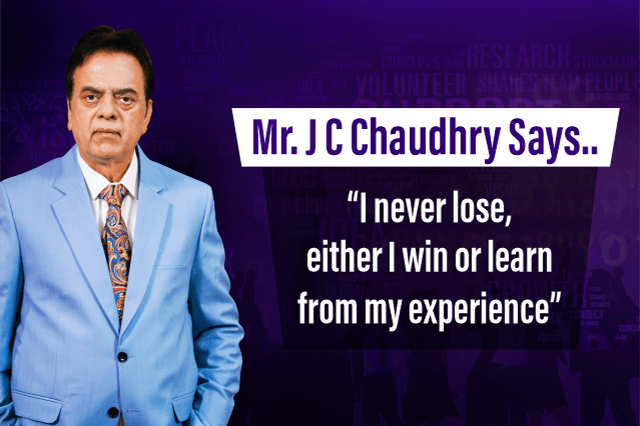 You can't afford to repeat a mistake if you really want to be successful. So, make a habit of learning from your experiences, then you will never lose.
 
Don't Leave any Opportunity
It is a harsh truth of life that we don't always get opportunities. Sometimes we need to create opportunities for ourselves, which means instead of waiting for something, let's look for it, find it around you. Talk to different people who can help you in exploring new opportunities for you, and of course, don't leave any opportunity at any cost that comes your way.
You may also like to read: How to Avoid Silly Mistakes in Exams? 10 Important Tips
 
Hard work is Important
If anyone says, with a smart approach, you can achieve your goals, then this is not 100% true. With a smart approach, you have to make efforts and hard work to reach your goals. If you have set a bigger goal for yourself, no doubt you need to give more time than you were giving to your work or study before setting this goal. In context to this, Mr. J C Chaudhry says, "Intelligence May Fail Hard Work Never Fails" Watch his full video about importance of hard work: https://www.youtube.com/watch?v=Zn529oZSiAY
 
Stop Diverting Yourself
Most people keep on diverting their minds from their set goals. This happens because they find it difficult to achieve them. Instead of changing your goals, change yourself. Start working on small goals that would help to reach you on your main goal. Decide a timeline to complete the small goals and your final goals. You should not sleep till the time you don't complete your daily goal/task.

Always think Positive
Positive thinking and a helping attitude can do wonders in your life. Make a principle in life that you will always keep a positive approach towards every aspect of life and think about more of giving in life instead of taking from others. If you keep on thinking about yourself only, you become a weaker person and thinking and doing for others make you stronger in life that helps you achieving more in life. 
Listen more about Motivation by J C Chaudhry – Motivational Podcasts
You may also read - Are You Living a Satisfied Life? 20 Questions to Ask Yourself
 
Leave a Reply
Your email address will not be published