JC Nummerro is an All in one Numerology App for Personal and Relationship Numerology.
Best Numerology
App
JC Nummerro App is the outcome of 38 years of experience of Dr. J C Chaudhry, the Top Numerologist of India. This App is based on Chaldean Numerology system followed by Indian and Chinese Numerology. It is a FREE Numerology app available for Android and iPhone to be downloaded on Play Store and App Store. This App provides insightful and close-fitting predictions based on various numerology-based parameters like the Psychic number, Destiny number, Name number, etc.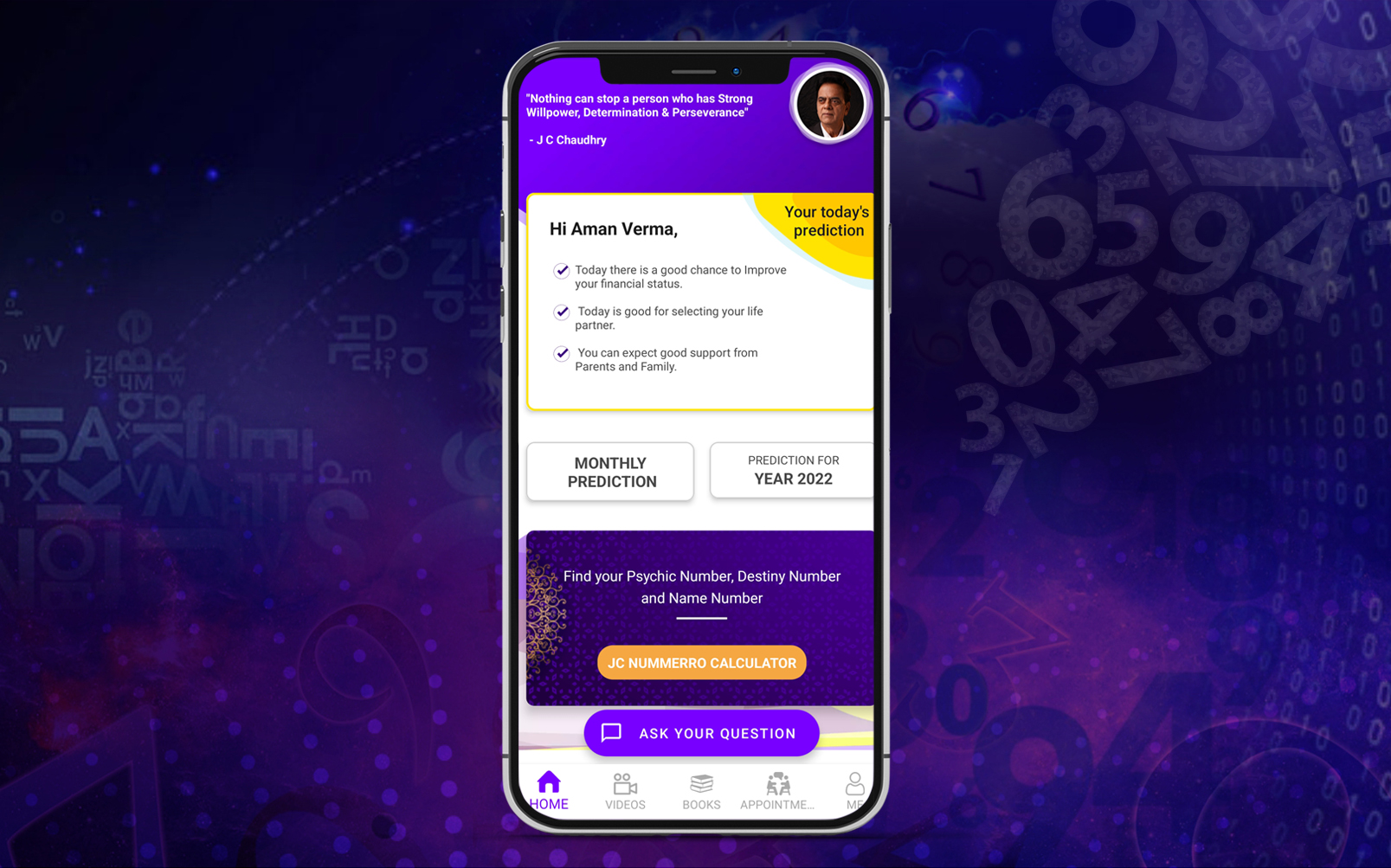 Daily Numerology

App
Plan your day with JC Nummerro App – Today's prediction tells you about the daily challenges and opportunities for you based on your Numerology Number. Read monthly predictions for an in-depth view of the current month for you. The yearly predictions tell how the whole year will be for you and how you can plan it better by following your lucky months in that year.
Worldwide Numerology

App
This App is available to download in India and many other countries of the world. Follow this Numerology App to know everything about you based on your Psychic Number/Driver Number, Life Path/Conductor Number and Name Number.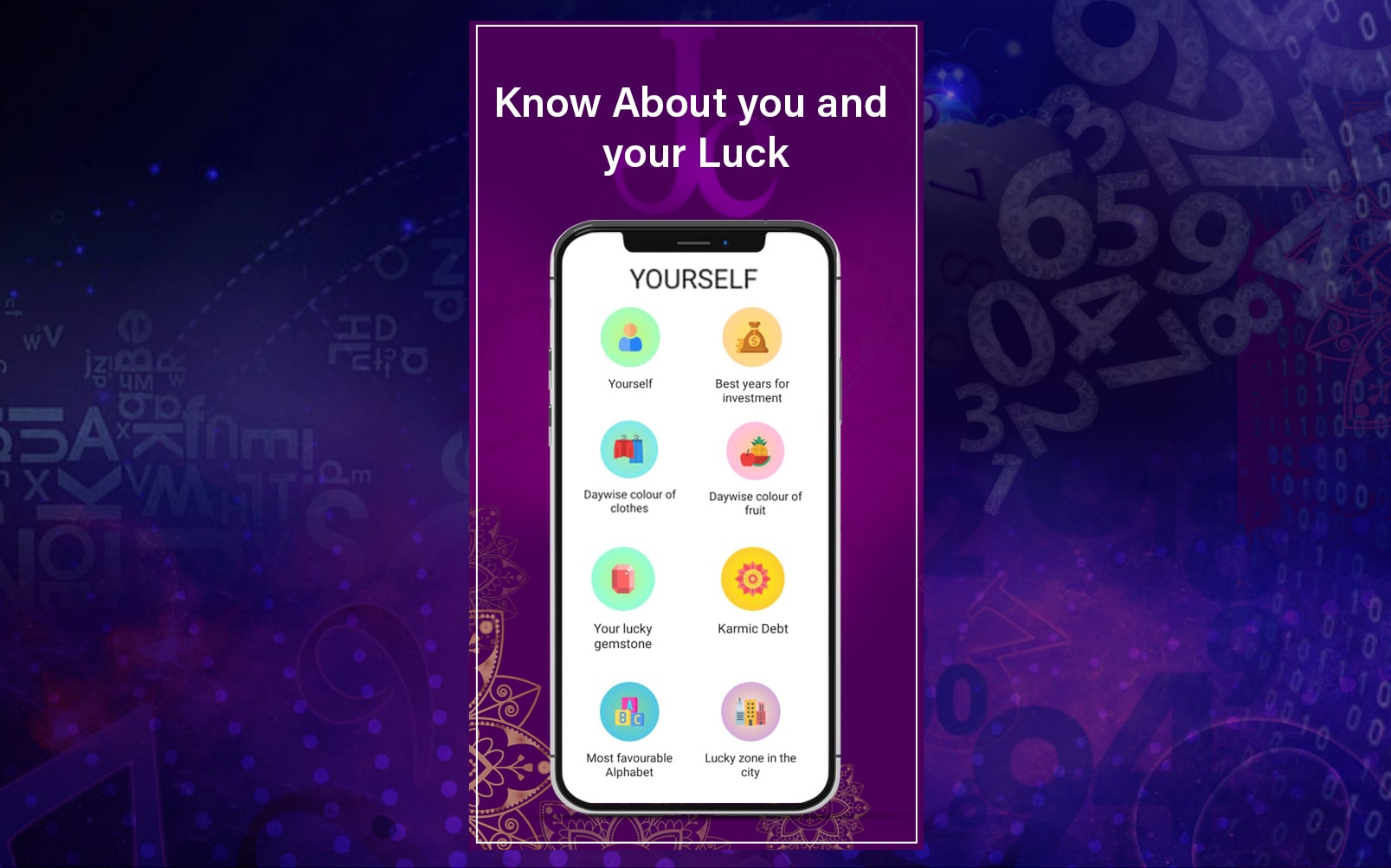 Numerology About

Yourself
Know your Psychic number (also known as Birth Date number), Destiny number (also known as Life Path number), Name number, and relationship of these numbers for you. Also know about your:
Lucky Day | Lucky Colour | Lucky Dates | Dates to Avoid | Lucky Years | Your Personality Characteristics | Best years for investment | Lucky Gemstone | Lucky zone in the city
Numerology About

Relationships
Forge stronger relationship with yourself and your dearest ones.
Know your relationship compatibility with your children
Also find out your compatibility with your soul-mate/life partner or with any of your family members (mother-in-law, sister-in-law, uncle) or friends.
You can also check if your Name and DOB is friendly or not. Friendly numbers help you finding the luck in life. The App also suggests the favourable Name Numbers for you. Adding your Name to the suggested Number(s) can make your Name friendly to your Date of Birth.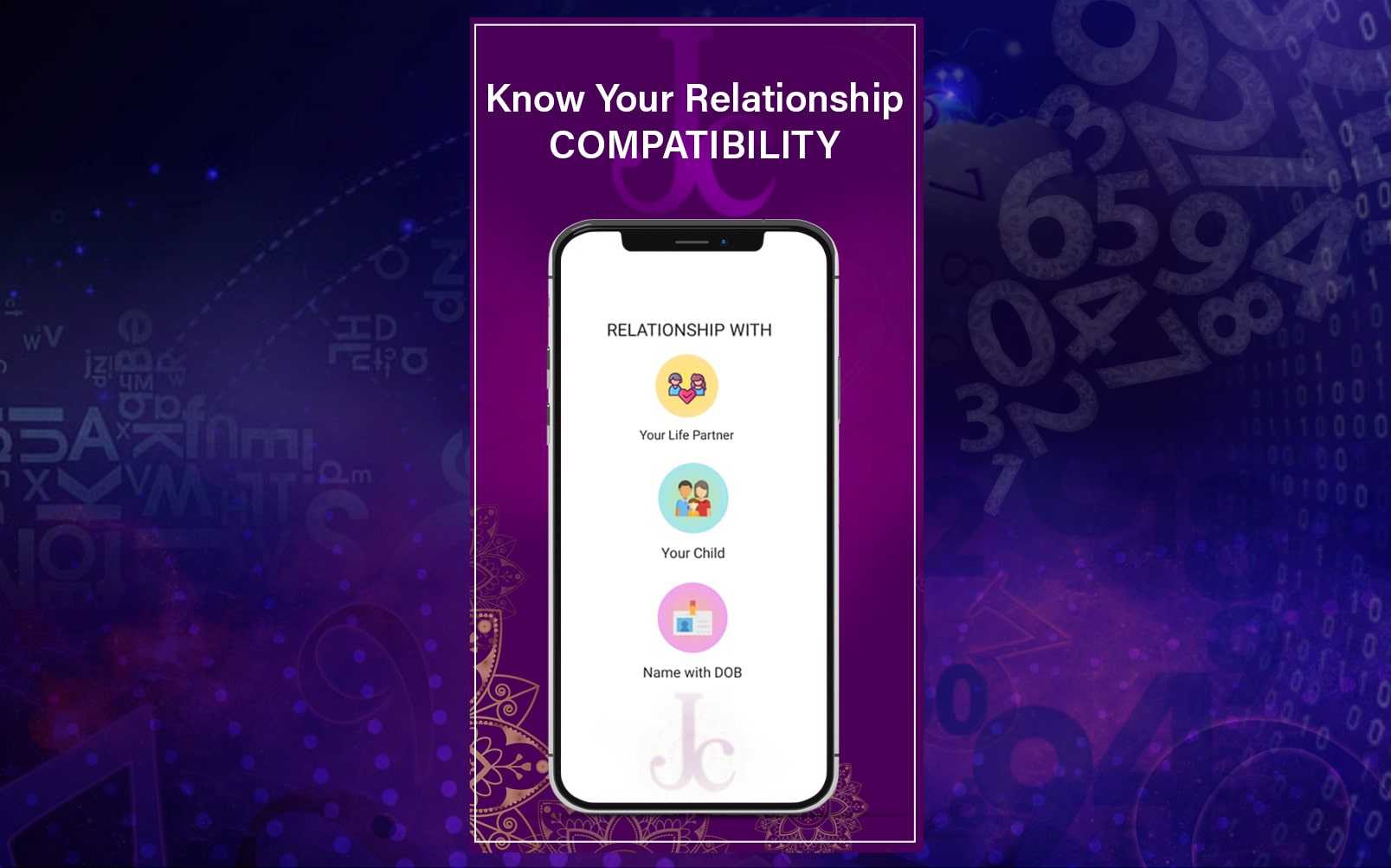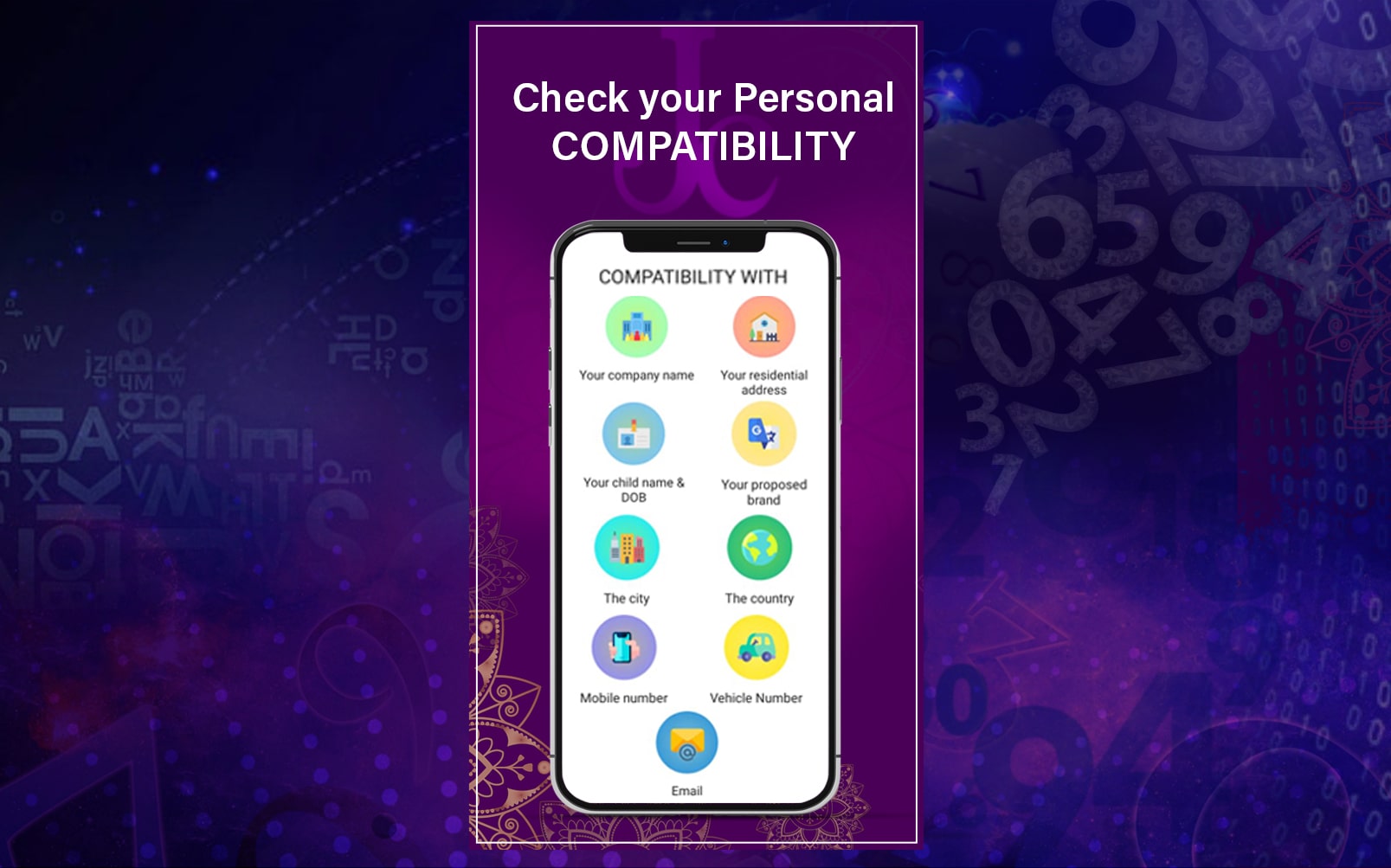 Numerology About

Compatibility
You can check your personal compatibility with your:
Company Name (where you work) or any new company you are willing to work.
Your Residential Address
Country you are living in or any other country (if you are looking to go Abroad).
Your current city or any other city you are willing to move
Your Mobile Number
Your Vehicle Number
Your child's name and date of birth compatibility.
Lo-Shu Grid

Numerology
Lo Shu Grid is a part of Chinese numerology. This Numeroscope App feature lets you know the Missing Number in your Date of Birth according to Lo-Shu Grid. You may also know the effect of missing numbers in your life and remedies for your missing numbers. You can learn about the repeated number(s) in Lo Shu Grid as well.
Know your missing numbers in Lo-Shu Grid.
Know your repeated numbers in Lo-Shu Grid
Learn about the effects and remedies of missing numbers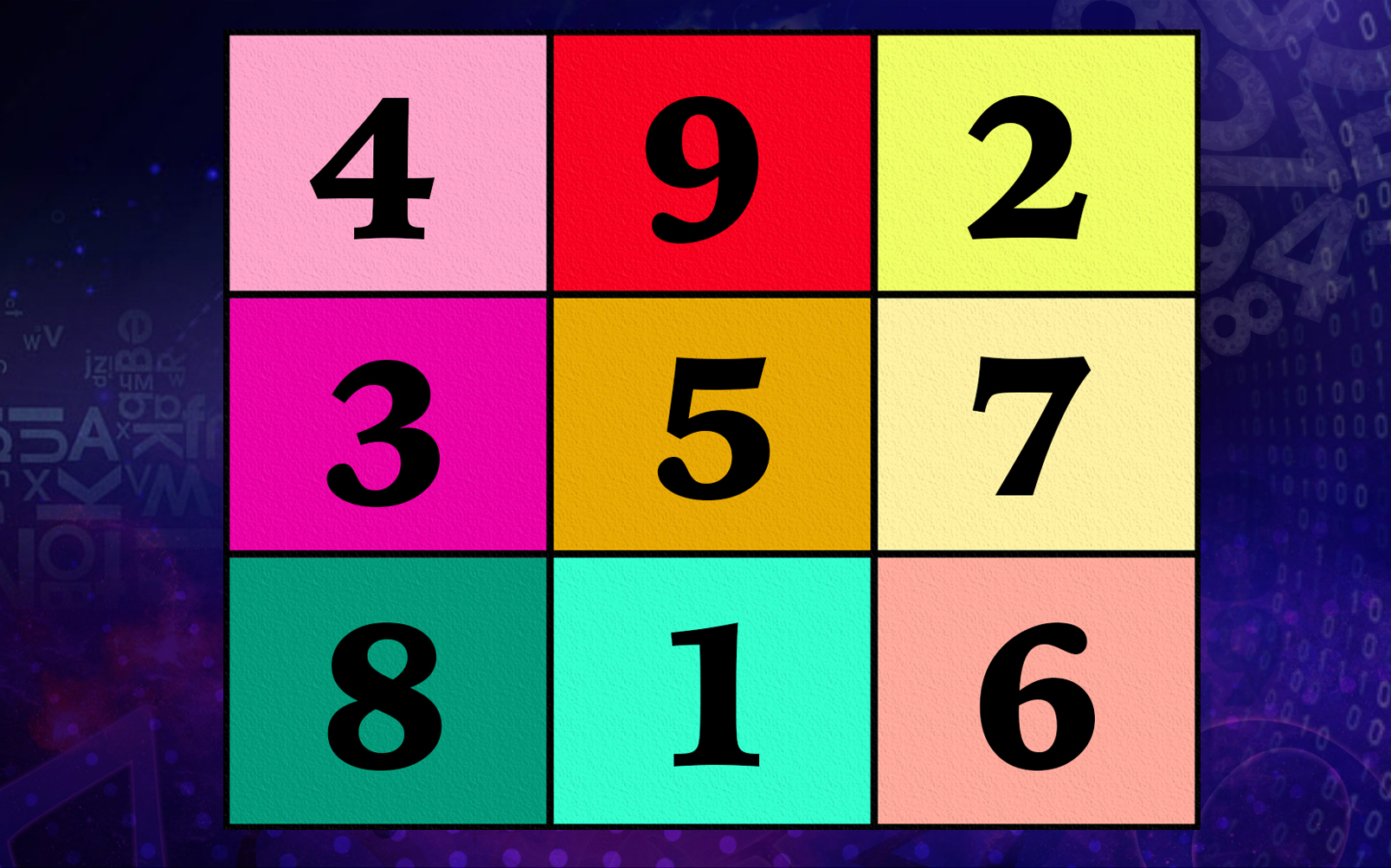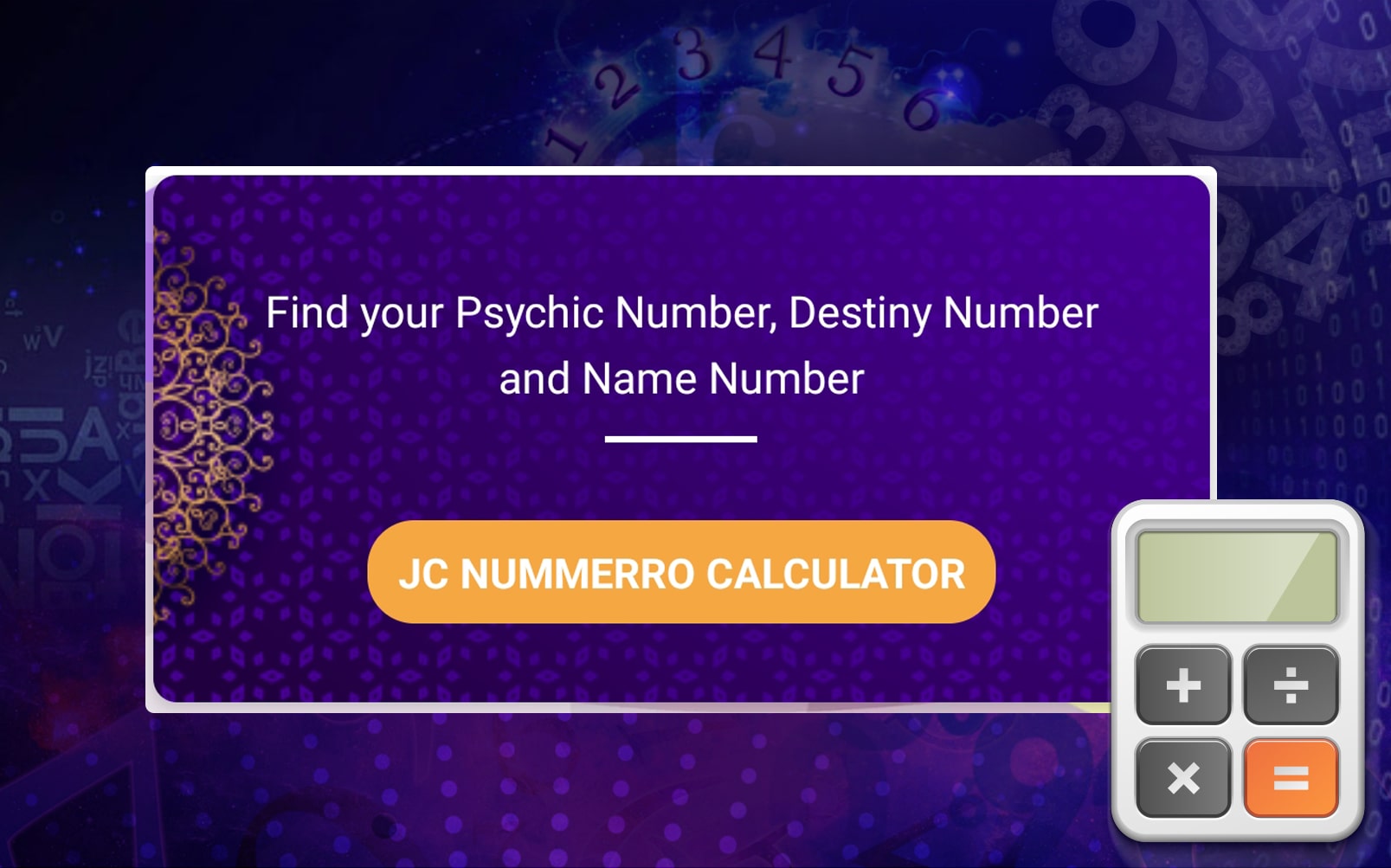 JC Nummerro

Calculator
The JC Nummerro App also has a FREE numerology calculator that helps you check the Numbers of your dear ones. You may find their Psychic Number, Destiny Number, and Name Number with a click. The JC Nummerro Calculator App will also tell if the Mobile Number of the person is compatible with him or not.
Find your Psychic/Driver Number
Find your Destiny/Conductor Number
Discover your Name Number
Know whether your mobile number is friendly or not
Book An Appointment with Dr

. J C Chaudhry
Face to Face Consultation
Book a Face to Face appointment in our Office. Two slots of Face to Face consultations are available: 30 minutes and 60 minutes.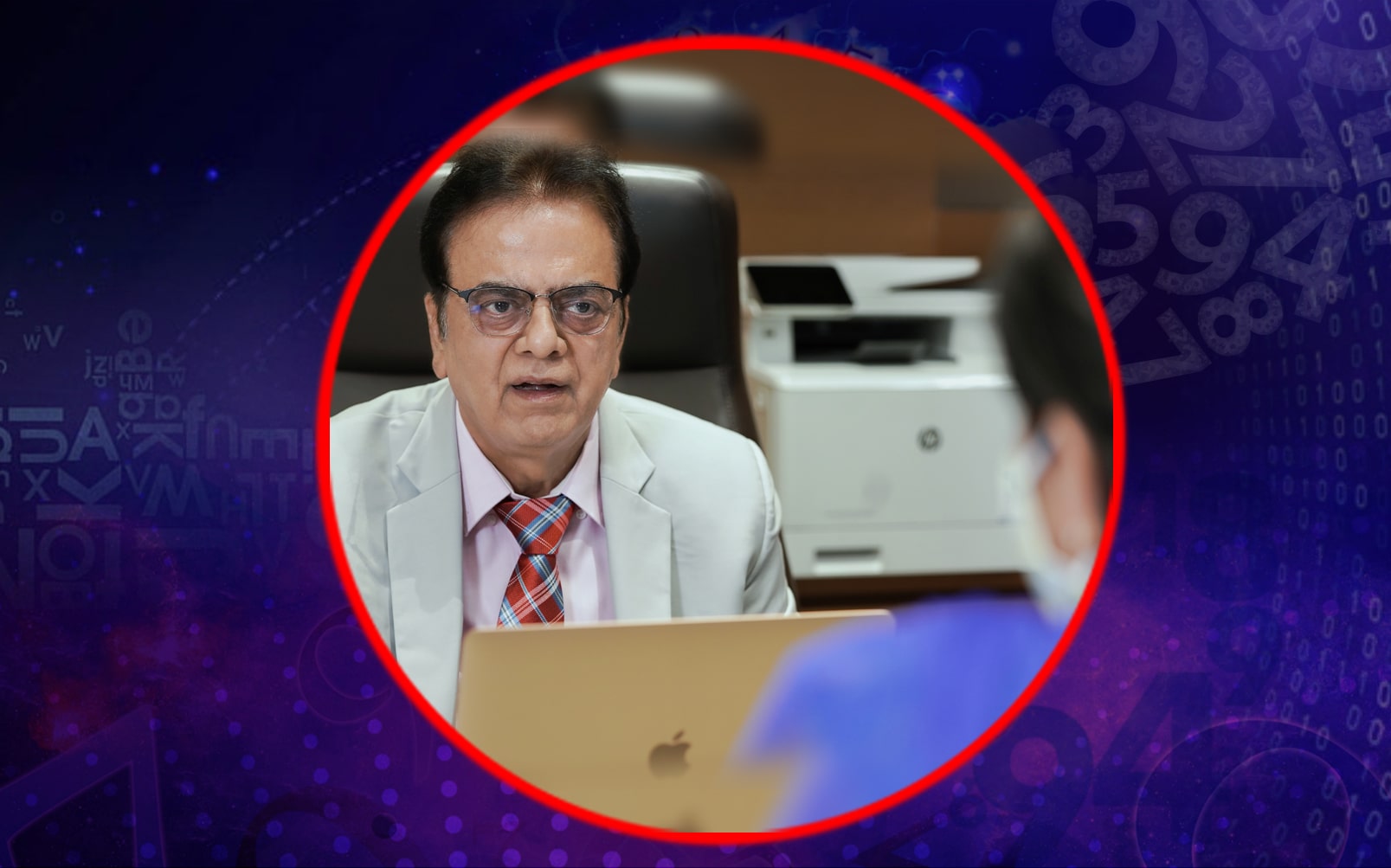 Online Consultation
During this COVID-19 Pandemic, book a virtual appointment on Zoom for 30 minutes or 60 minutes from the comfort of your home.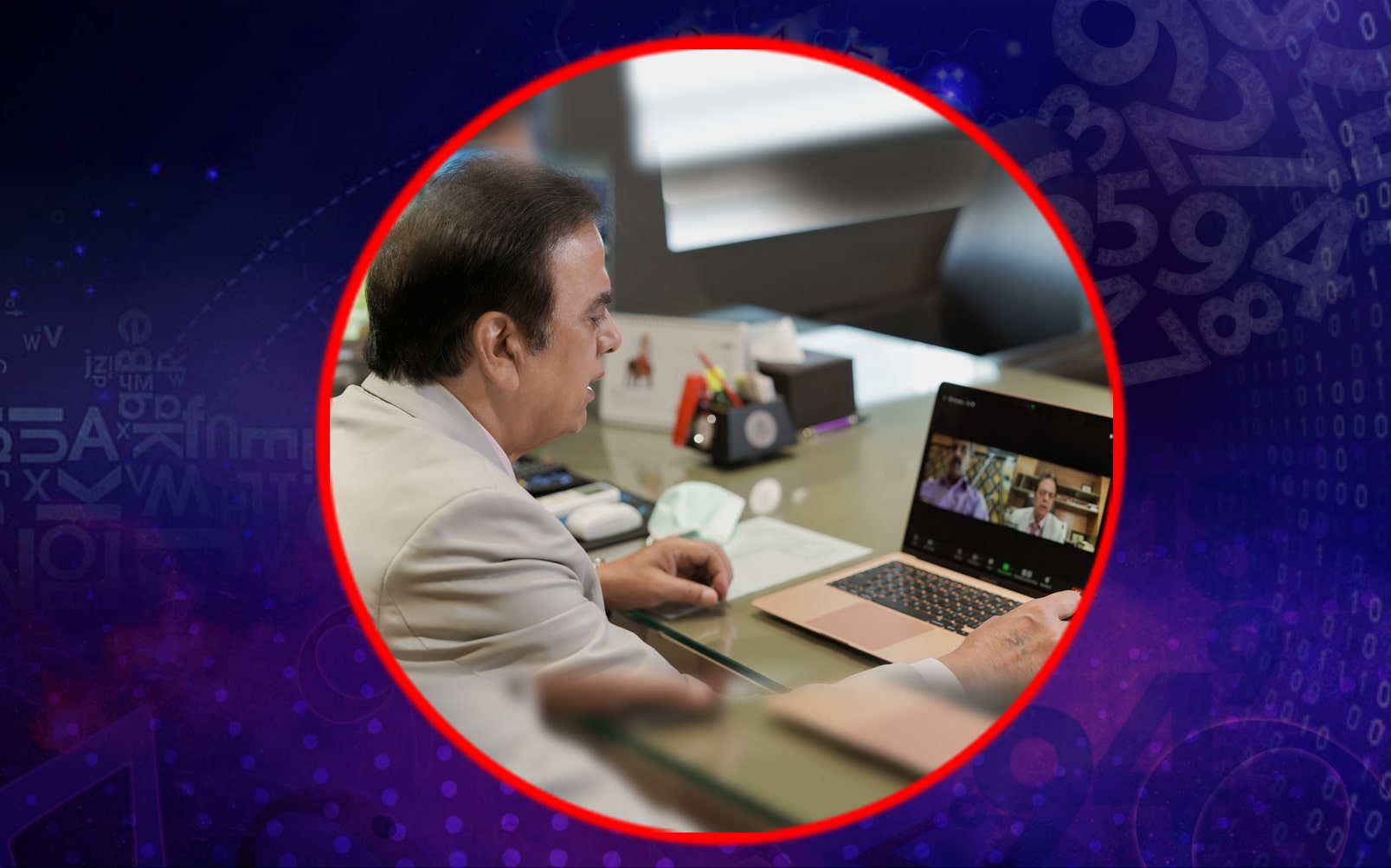 Numerology Audit
Want to run a successful business? Entrepreneurs book an appointment for a numerology audit of company and top management.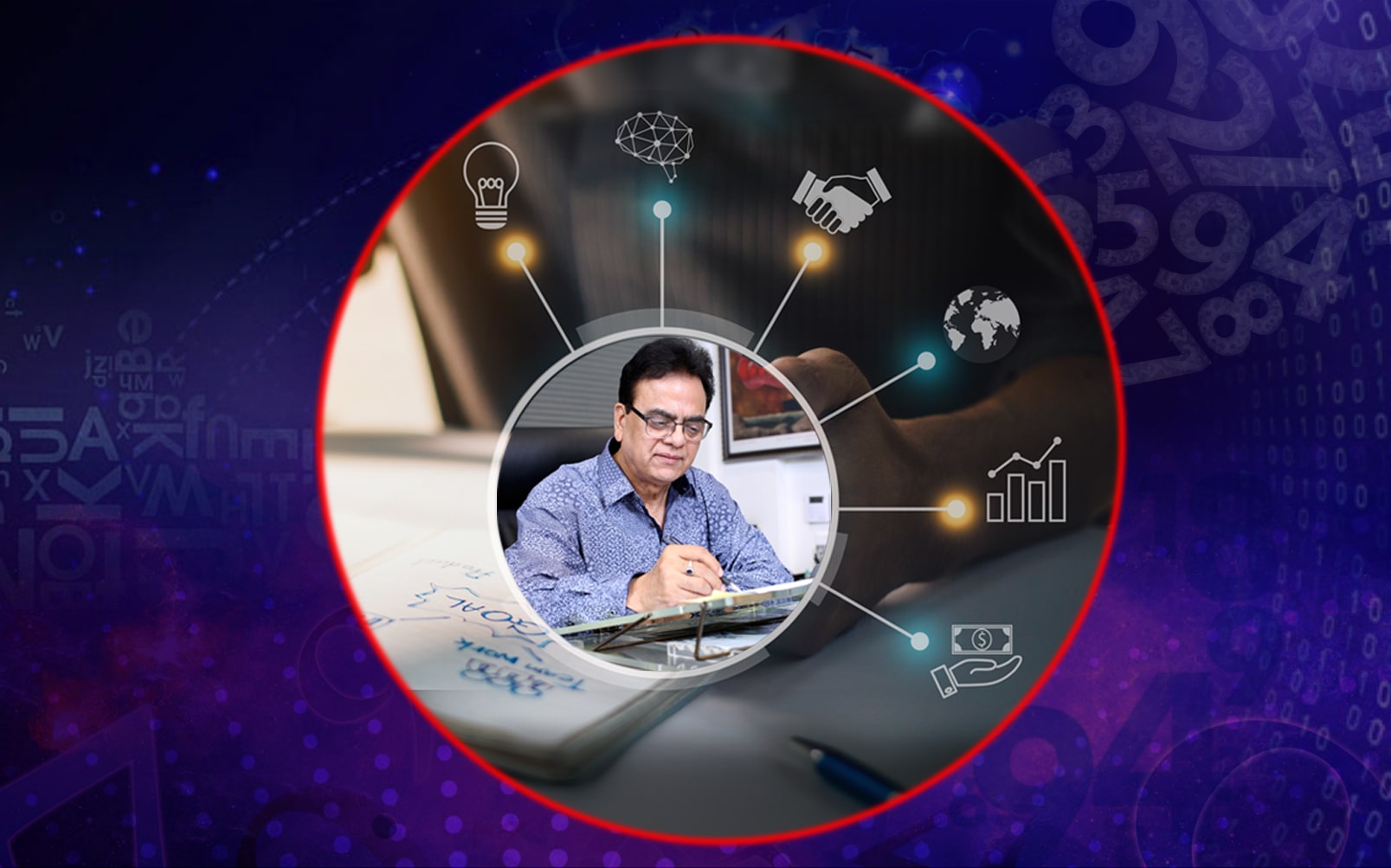 Ask Your Question with Dr

. J C Chaudhry
The JC Nummerro App, the best app for numerology, lets you Ask Your Question from Dr. J C Chaudhry. The steps to ask your question are as follows:
Go to Play Store or App Store for the JC Nummerro Numerology App download.
After creating your account on the App, click on the Ask your Question Button.
Select the category: Personal, Health, Business, Abroad, Marriage, Children etc.
Click on any category that you wish to ask about.
Select your question. Review your details and describe your problem in detail in the section provided.
Make payment via the App.
You will get the detailed reply to your question directly from Dr. J C Chaudhry on your Email.
You may also Ask Your Question from Dr. J C Chaudhry on our Website.
Ratings & Reviews of

JC Nummerro App
The JC Nummerro App, the best app for numerology, lets you Ask Your Question from Dr. J C Chaudhry. The steps to ask your question are as follows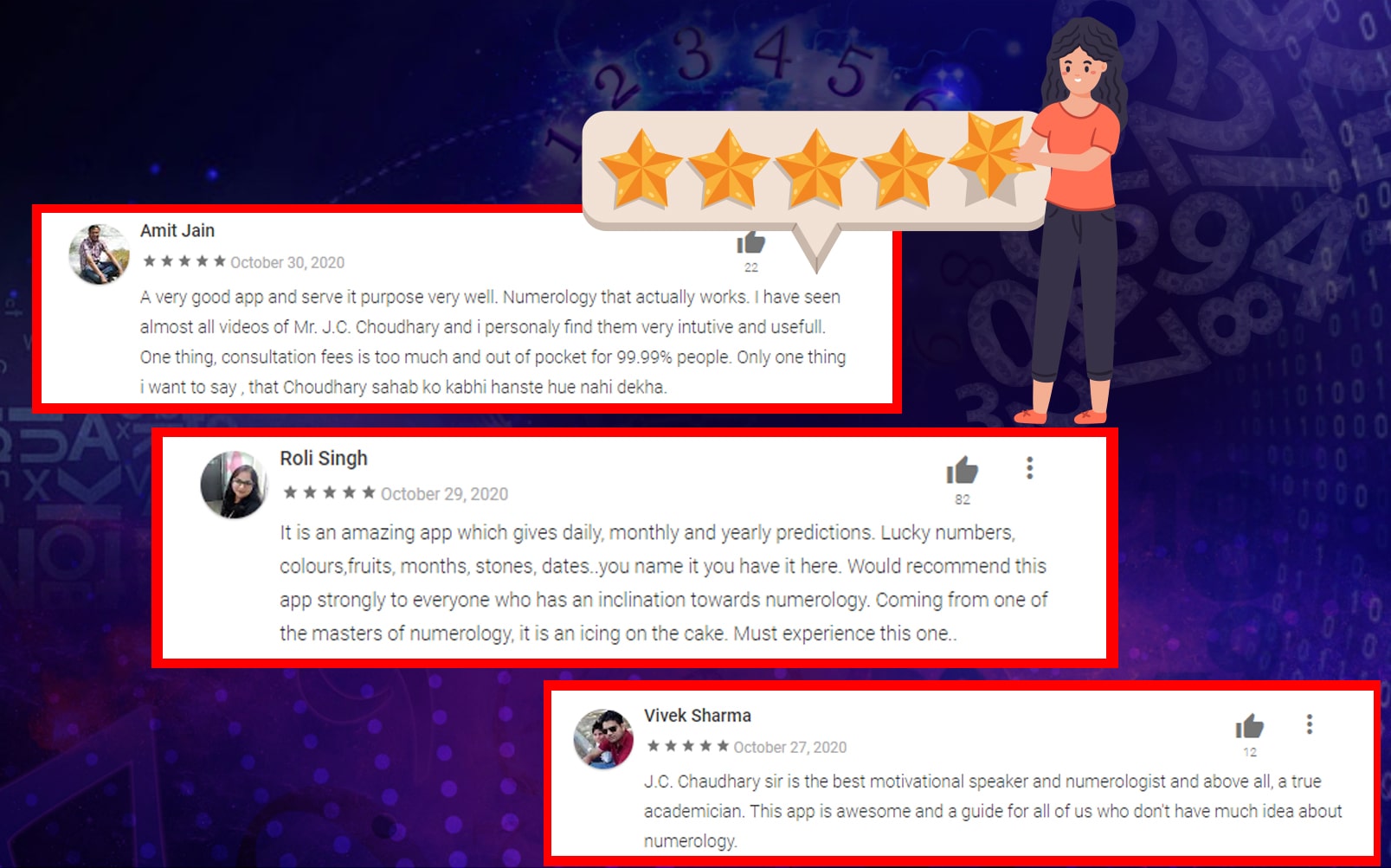 Numerology

Consultation
Book Appointment with Dr. J C Chaudhry for your detailed Numerology Consultation