Bring Ganesha to your Home & Follow these VASTU Tips
Published

08 Sep 2021

Last Updated

07 Oct 2021

Read Time

2 mins
This Ganesh Chaturthi, bring Ganesha to your home and follow a few Vastu tips to bring peace and prosperity as well. 
First and foremost, if you want to make Ganpati happy; Respect your parents and elders. If you have respect and care for your parents, Ganesha's blessings will always be with you. 
Try to keep your Ganesha's Idol at some height, at least 1 or 2 feet. You can keep the idol on any table or a small cabinet. Don't keep the Idol touching the floor.
Restrict to keep only one Ganpati Idol at home.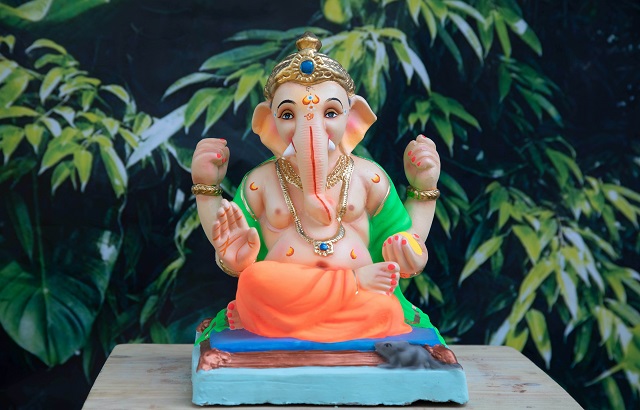 Which side should Ganpati Idol face?
The ideal direction to place the Ganesh Idol is East, West or the North-East. Don't place your Ganesha in Southside. North-East is considered the best location for Ganesh Idol. As Ganesh is our Lord, don't keep the Idol near the bathroom or the wall attached to the bathroom.
Which Idol of Ganesha is good for home?
To bring harmony in relations, for a peaceful environment at home, always consider keeping white Colour Ganpati in your home. But if you are more inclined towards self-growth and success, a vermilion idol of Lord Ganesha will be best. 
Is this good to keep Ganesh Idol at the entrance?
I want to bring propriety at home, bow your head in front of Siddhi Vinayaka as you enter your home. So, having your Ganesh Ji at the entrance will give you this chance every time you come back to your home. Make sure you keep the entrance clean to please your Vignharta. 
The Position of the Ganesh Idol
Bringing your home, the Idol of sitting Ganesh Ji is best. It represents positive energy with a calm environment for the home. Never bring a dancing Ganesha to home as it may bring destruction for you. The trunk of the Ganesh Ji should be on the left side. Bring a fat and happy Ganesha to bring lots of happiness to the home.

One last tip for you
The Idol of Lord Ganesha is incomplete without mouse and modak. So, these two should be part of the Idol to bring completeness to the family. 
 
You may also read: Vastu Tips to make your home lucky

You may also consult Mr. J C Chaudhry for Residential and Commercial Vastu for Home, Office, Shop, Plot, Malls etc. 
Leave a Reply
Your email address will not be published